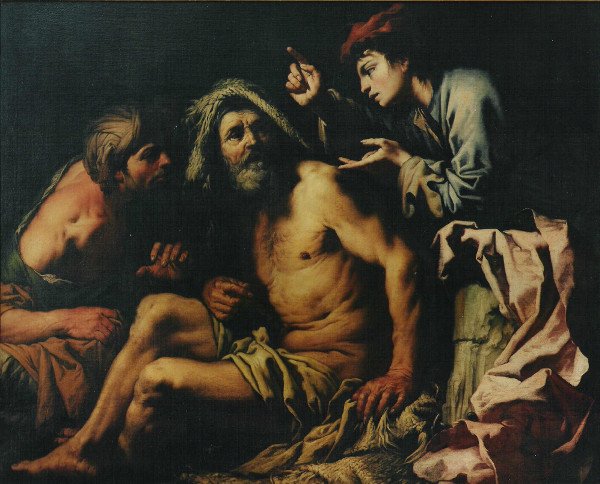 Antonio Zanchi
Este 1631 - Venezia 1722
Born in Este (Padua) in 1631, Antonio Zanchi represents one of the most relevant personalities of mid-17th Century Venetian painting. Antonio was apprenticed to many masters, such Francesco Ruschi, whose style he absorbed so well that their works are often confused. Subsequently he achieved his own distinct style and was appreciated even more than his teacher; documents tell us that in 1675, he had already achieved considerable fame. In 1661 the whimsical painter and writer Sebastiano Mazzoni dedicated him some verses in one of these poems, naming him "pittore celeberrimo" (famous painter). In fact, important works were commissioned from him, such as those of Scuola di San Rocco (close to Tintoretto), in the new Sacristy of the Confraternity of Santa Maria della Giustizia and San Girolamo, and also the ceiling of Albergo Nuovo together with the Universal Judgment (1674).
At this time Zanchi had already left Venice for Bergamo (his ancestor's city). He painted in "Moses makes water spring from a rock" in 1670 for Santa Maria Maggiore, the most important church of Bergamo in that period. From 1667 he worked for the Bavarian Princes for whom he painted several highly prized works of art. In 1683 Joachin De Sandrart, in the Latin edition of the Deutsche Academie printed in Nuremberg, inserted some information about Italian "modern" painter that he knew amongst them was Zanchi who he praised confirming his European fame.
Considered one of the most capable artists of his age, demonstrated by his numerous prestigious commissions, Antonio Zanchi was a painter of great quality and skill. He represented a specific moment in the long development of Venetian painting, a crossroad that would bring the great 18th century venetian style. He was the artist who denominated Venetian art during the second half of the 17th Century and he knew how to gather Baroque values, elaborating their components and understood their development. He appears in the course of art history not as a minor artist but as one of the creators of a new artistic trend.
Giuseppe interprets dreams
Oil on canvas
cm 147,5 x 178
The present painting is an unpublished work and represents a typical example of the high level reached by the painter. We can recognize the influences of the new naturalistic school which Luca Giordano and Langetti brought to Venice between 1650 and 1660. Also, still evident is the debt to Ruschi's work, especially in the elegant and fine figurative treatment. It is therefore correct to date the present work around the years 1666-1667. The present painting is considered a masterpiece by Professor Eduard Safarik. The painting is in excellent condition and it has never been restored.
Doubtless a light cleaning of the painting's surface would subsequently emphasise the evocative chiaroscuro-contrast.
Bibliography about Antonio Zanchi
I Pittori del Seicento veneto
, C. Donzelli e G. M. Pilo, Firenze 1967
Per Antonio Zanchi in "Arte Veneta"
G. Gamulin 1967 Zanchi, Pietro Zampetti 1975
La Pittura veneziana del Seicento
, R. Pallucchini, Milano 1981
La Pittura in Italia, Il Seicento
, M. Monticelli vol II, Milano 1989